Are you ready to cut business tool costs and increase profits while maintaining flexibility and efficiency with Zoho?
In today's fast-paced business environs, having the right tools and resources can make all the difference when it comes to growth and success. This is where Zoho comes in as a powerful growth partner for any business. 
With its comprehensive suite of cloud-based applications, Zoho enables businesses to streamline their operations, increase productivity, and ultimately drive growth.
Zoho – founded in 1996, has grown to become one of the world's leading software companies.
Zoho's key strength is in its comprehensive suite of applications,
which covers everything from customer relationship management (CRM) to human resources management (HRM), accounting, project management, and more.
This suite of applications enables businesses to manage their entire operations from a single platform, which is not only convenient but also helps to improve collaboration and communication across teams. 
How can Zoho Applications maximize your business growth?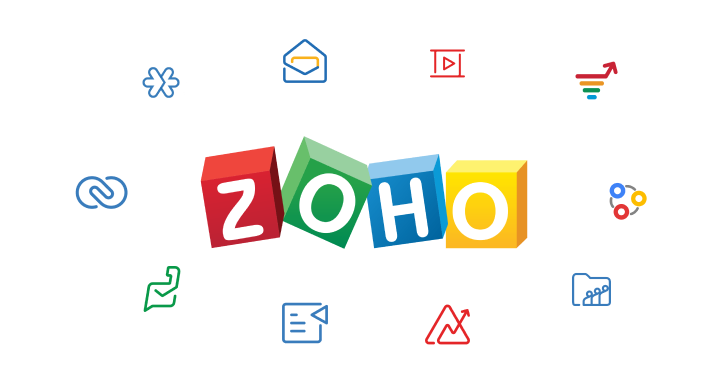 Zoho CRM
is a comprehensive customer relationship management platform that can provide numerous benefits to businesses of all sizes. It can help your businesses gain better insights into your customers' needs, preferences, and behavior. It also allows your businesses track customer interactions across multiple channels and capture data in a centralized location. With Zoho CRM your team will collaborate more effectively, from sales, marketing, user experience and customer support team, and this in turn increases productivity. Zoho CRM meets your business where it is and opens rooms for growth. It offers a range of features and customization options that can be tailored to meet the specific needs of your business
Zoho Marketing Automation
can help your businesses automate and optimize its marketing efforts across multiple channels. Your business is sure to experience improved lead generation, create a more personalized marketing campaigns by tracking customer behavior and segmenting audiences. This improves customer engagement by sending automated messages across multiple channels, including emails and social media. It also provides your business with real time analytics, to track engagement and adjust campaigns accordingly. This in turn increases efficiency and ROI for your business.
Zoho PageSense
provides businesses with a powerful set of tools to optimize their websites for better user engagement and conversion. By using data-driven insights, businesses can make informed marketing decisions, using A/B Testing, Heat maps (show how users interact with a website), Funnel Analysis, User Behaviour Tracking, and Personalization.
Zoho Books
can provide a low-cost, integrated solution to manage various aspects of their business. By centralizing customer data, automating routine tasks, and customizing the platform to meet their needs, your businesses can focus on building relationships with customers and growing their business.
Zoho Projects
is an online project management software that helps businesses of all sizes plan, track, and collaborate on projects. It provides businesses with a comprehensive project management solution that helps them streamline their workflows, increase productivity, and achieve their business goals
Zoho SalesIQ,
is a unique website visitor tracking and lead generation tool that provides your business with actionable insights about website visitor behaviour. Zoho SalesIQ offers a range of features that can help businesses improve their lead generation and conversion strategies.
For example, the tool enables businesses to engage with website visitors in real time through live chat. The ability to engage visitors in real time makes it easier to answer any questions they may have, as well as guide them towards making a purchase. 
This can help to increase engagement, and make visitors more likely to respond positively to content that is tailored to their needs. 
Zoho
offers several applications that can help you
achieve your goals, simplify your workflows, save time, and allow you to focus on growing your business.
Another interesting part, these applications can integrate seamlessly with each other, you can easily switch between them and access all the information you need in one place. Overall, Zoho's inbuilt applications are a valuable resource for any business looking to improve efficiency and increase profitability.
If you want to achieve product-market fit, you should be asking these questions to help you better position.
Why are Zoho Applications essential for your business growth?

Integrated Suite of Applications:

Zoho offers a suite of integrated applications that can help you streamline your business operations, reduce redundancy, and improve productivity. By using a single platform, you can manage different aspects of your business, including customer communication, project management, invoicing, and financial reporting.



Affordable Pricing:

Zoho applications are affordable, and you can choose the applications that best fit your business needs. Zoho offers a range of pricing plans, from free to enterprise-level, so you can select the one that fits your budget. Zoho offers a range of pricing plans to suit businesses of all sizes and budgets, with plans starting from as little as $12 per user per month.



Customizable:

Zoho applications are customizable and can be tailored to meet your specific business needs. You can add or remove features based on your requirements, and you can also integrate Zoho with other business applications you use.



Mobile-friendly:

Zoho applications are mobile-friendly, which means you can access them from any place, anytime, using your mobile device. This feature is particularly beneficial for remote teams or employees who are always on-the-go.



Security and Data Privacy:

Zoho is committed to providing robust security and data privacy to its users. All data is encrypted, and Zoho applications are compliant with international data protection regulations such as GDPR and HIPAA.
Did you know that Terrific Studio is a renowned and trusted partner of Zoho? And the only authorized partner in the MENA region specializing in CRM (Customer Relationship Management) and Martech (Marketing Technology) solutions. This gives us the unique position to help your businesses improve customer experience and achieve growth targets.
By partnering with Terrific Studio, you'll gain access to a range of personalized benefits that gives your business a competitive edge personalized consulting services, advanced training programs, and ongoing technical support to ensure that your Zoho solutions are working effectively and efficiently.
Looking to get started with Zoho? BOOK A FREE CALL with us today.